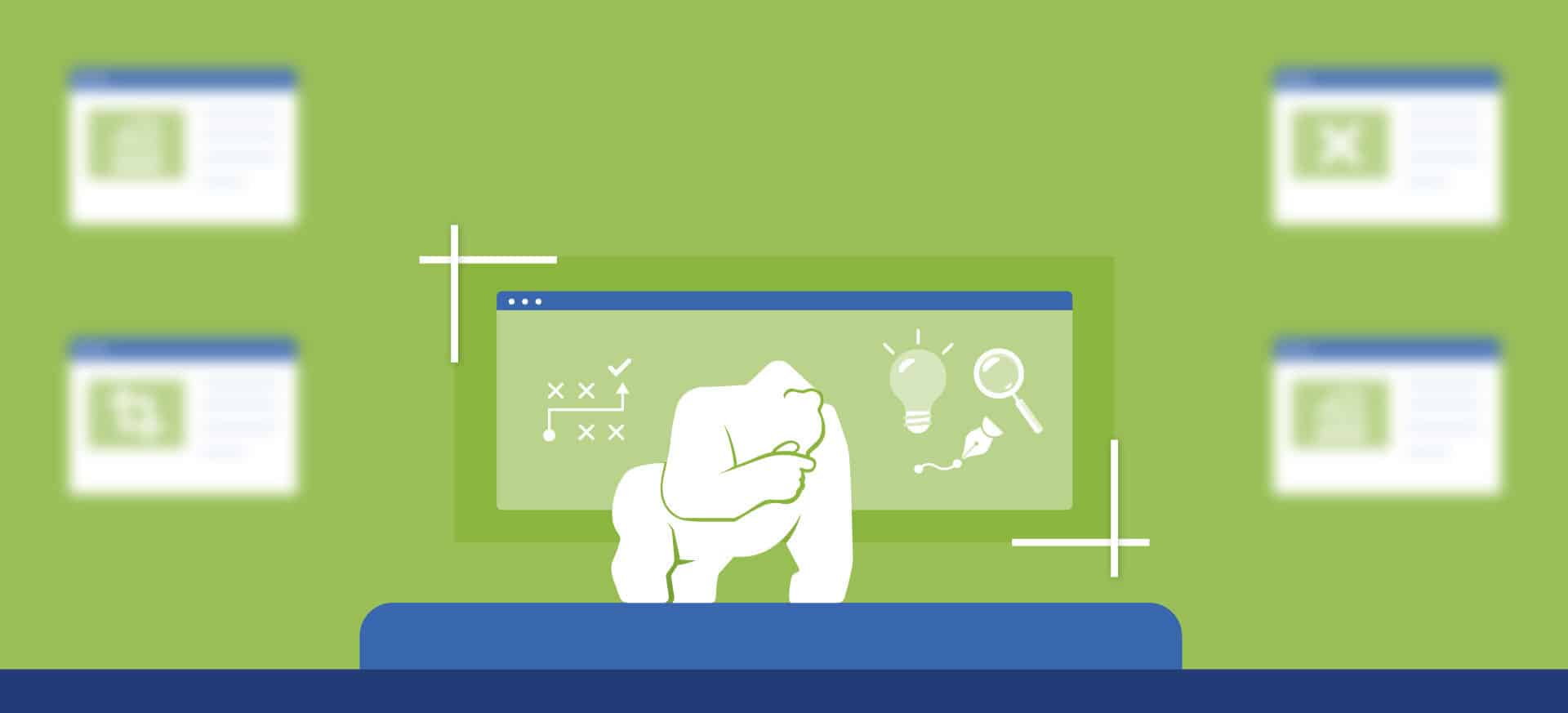 How Design Thinking Shapes Business Strategy
According to an IBM survey of 3,000 global business leaders, 60% of CEOs rank "delivering better customer experiences" among their highest priorities in the next two to three years. Yet, as consumer expectations have been honed by the consistently flawless interactions they have with brands like Apple, Amazon, and Netflix, only the very best products and services stand out and win customers. Now, with the blurring of lines between hardware, software, and services, it's getting harder than ever to design and deliver the experiences customers, employees, vendors, and partners all increasingly expect.
The key to unlocking the disruptive opportunities and sustainable successes of iconic products like the iPhone or even the simple Google homepage is effective, human-centered design. In fact, for the last several decades, design thinking has been transforming how leading businesses identify problems and come up with solutions. Design thinking is especially useful in tackling complex challenges that may not have a simple solution and in identifying which challenges should even be addressed.
And companies with a design thinking model have discovered that it delivers more than products that delight customers. Design thinking can have significant business impact: Mckinsey reports companies that score highest in its McKinsey Design Index (MDI) outperformed industry-benchmark growth by as much as two to one, and DMI reports that "design-centric" companies outperformed the S&P 500 by 211%. So, what is design thinking, and how does it work?
What is design thinking?
At its core, says Matt Franks, VP of Design at Gorilla Logic, "Design thinking is an actionable, iterative, and pragmatic approach to articulating and solving for problems, sometimes problems you don't even know you have." Design thinking gained momentum in the business world with the founding of IDEO in the 1990s. According to Tim Brown, Chair of IDEO and one of the leading proponents of design thinking applied to business, design thinking is "a human-centered approach to innovation that draws from the designer's toolkit to integrate the needs of people, the possibilities of technology, and the requirements for business success."
Focused on much more than what a product looks like on the surface, design thinking seeks to solve complex challenges in a way that results in the most valuable and desirable outcome:
• Feasibility, so that the results can be developed into functional products or processes.
• Viability, so that the business can afford to implement the results.
• Desirability, so that the results address a real need for the user.
To guide how they work consistently together, design thinking teams strive to adhere to common principles, including:
| Principle | Description |
| --- | --- |
| Empathize | The focus is on identifying and responding to the user and the user's human needs. In a design thinking process, we spend time with users to understand the problems they are trying to solve and how they go about their tasks. The goal is to build empathy with the user. |
| Collaborate | Innovation comes from sharing a diversity of perspectives and ideas, and design thinking is driven by diverse, multi-disciplinary teams working closely together. |
| Ideate freely | Design thinking seeks to redefine a problem or challenge in a new way. All too often, we can get stuck in thinking that the way we've done something is the only possible way to solve the problem. Design thinking encourages judgment-free consideration of as many different ideas as possible, from many different sources. Herbert Simon, Professor of Psychology at Carnegie-Mellon University recommended, "There are no judgments in design thinking. This eliminates the fear of failure and encourages maximum input and participation. Wild ideas are welcome since these often lead to the most creative solutions." |
| Experiment and iterate | In design thinking, it's important to test our best ideas by quickly turning them into prototypes and getting user feedback so that we find the flaws, make changes, and retest the proposed solution. |
| Favor a bias toward action | Design thinking favors action over discussion, and emphasizes turning ideas into prototypes that you can test in real-world situations. |
What does a design thinking framework look like?
The design thinking framework typically is broken down into actionable steps. Each model may differ slightly, but this common approach from Stanford includes five actionable steps:
• Empathize—Create a clear picture of the end users, the challenges they face, and the needs and expectations they have. Design teams may use observation sessions, informational interviews, surveys, and other tools to immerse themselves in the user's world so they can best understand the problems to solve.
• Define—Frame a problem statement that describes the specific challenge that will be addressed with a fixed and measurable goal that supports the identified user needs. Design teams will typically review and refine the problem statement with the product owner or stakeholders until everyone agrees that the problem is clearly defined and understood, and represents the right problem to solve.
• Ideate—Generate a number of ideas for how the problem statement can be addressed. Working with different groups of stakeholders, design teams will use a wide range of ideation techniques, such as brainstorming, assumption challenging, or storyboarding.
• Prototype—After working with stakeholders to narrow down the ideas to a select few, build a testable prototype or scaled-down versions of the product or concept to test with users. Design teams use many different prototyping tools, from basic paper models to interactive, digital prototypes.
• Test—Assess whether the prototype works as expected with target users and whether improvements should be made before spending more time and money developing and/or implementing the solution further. Design teams will run testing sessions to observe users interacting with the prototype, gather feedback via interviews and surveys, and analyze usability data gathered.
How Gorilla Logic's design services are helping a software solutions provider address one industry's workforce training challenge
With 25% of its highly educated and skilled workforce set to retire over the next ten years, the manufacturing industry has an urgent need to onboard and train a much younger workforce. Headwinds from an ongoing labor shortage elevate the situation to near-crisis levels for many manufacturing businesses.
One global software solutions provider set out to help its refinery customers tackle this significant challenge, starting with software that would make it easier for younger operators to identify risk. Although they were less experienced, this generation are digital natives and used to engaging with software.
The physical infrastructure of a refinery can be complex. Systems documentation can be very technical and difficult to interpret, if it is even written down. For example, if you see white smoke coming out of a specific valve, does it mean that you should make adjustments to another system to avoid an emergency shutdown, or does it mean routine maintenance is required? How can you tell when quality is starting to decline—and what you should do about it?
Even educated professionals may require extensive training to understand and operate the plant, and plant operators are increasingly concerned that the tacit knowledge they rely on is leaving with every retirement.
Working with Gorilla Logic, the company embarked on a design journey to answer questions like: How can we bring the tacit knowledge of "what to do when…" back into the workforce? How can we engage a workforce that has grown up on video games to become experts in the complex, inner workings of a refinery? How can we build a platform that moves us forward toward a self-optimizing plant?
By bringing together a diverse set of skills and perspectives, and applying a human-centered approach to identifying the right problems to solve, Gorilla Logic's design services empowered the company to develop a targeted and innovative solution that helps less experienced operators identify problems, and more seasoned operators catalog the 'tricks of the trade' they have learned over so many years of experience. The solution combines a sophisticated IoT and machine learning backend and an equally smart, highly visual frontend.
Using hundreds of endpoints installed on equipment throughout the plant, the system learns what data signals potential or active issues. Historically, this data is provided in the form of highly technical wave forms and readouts, which require advanced degrees to interpret. Moving forward, the system will 'make sense' of the data it is receiving and present scenarios about the potential issue in human terms, including the potential mediation and the issue's urgency.
Says Franks of the results so far, "The solution is proving successful in engaging both younger and older generations of operators. By identifying opportunities for creating better interfaces for each type of user, the solution is demonstrating that a design-led approach to creating products and services will result in a faster, more effective response to issues, in seconds instead of hours or days, and well before they become disruptive."
Helping our clients discover solutions to their most challenging problems
The principles of design thinking have always informed Gorilla Logic's culture and how we build products with our clients. With the acquisition of Modernist Studio in 2021, we extended our development and implementation capabilities with robust design services that help business leaders and product owners answer their most urgent questions, such as:
• Will this product really deliver value?
• What is the right set of features right now?
• How do we engage a much younger customer base or workforce?
• How do we support our aging customers or workforce?
• What opportunities are we missing?
• What's our best strategy for catching up and surpassing our competitors?
• How do we address declining customer satisfaction or engagement with our product?
Our design services uncover unique solutions that can then be seamlessly implemented by our development and implementation experts, providing our customers with maximum business value and impact.
Get the
latest tech trends

  straight to your inbox

By submitting this form, you agree to receive communications from Gorilla Logic. You may unsubscribe from these communications at any time. Click here for our full privacy policy. 

Click here for our full privacy policy.